Same Day Repair provides extraordinary on the spot repair services for home appliances of all makes and models. We offer fair prices for high-quality appliance repair services anywhere in Winnipeg.
AEG Appliance Repair in Winnipeg. Our team is available 365 days a year so you can call us anytime; Care Repair experienced technicians will provide the same day fix because they constantly drive a van full of original parts. After examining the faulty appliances, our senior repairmen will offer you a free service call with any repair.
We accept Visa, MasterCard or Cash payment methods. We are factory approved and you get an extended warranty on all our appliance repairs.
Give us a quick call at (204) 400-4045 right now and order our repair services in Winnipeg.
Fixing Appliances in Winnipeg the Same Day
AEG Appliance Repair in Winnipeg. Are you looking for a quick and effective AEG repair service for a reasonable price? Our professional repairmen can certainly fix AEG stove, oven, fridge, washer, dishwasher and dryer for you in only one day. Our repair guys circulate around Winnipeg all day long with vans full of genuine AEG parts. Whenever you order our appliance repair services in Winnipeg, we will send certified technicians to solve the issues of your appliances immediately. Therefore, you won't have to wait any longer than a couple of hours to receive high-quality AEG repair service. If you need a quick fix, we will gladly offer you our repair services in Winnipeg. Call us and order AEG appliance repair service today and expect to see us at your door very soon!
Professional Team of Certified Technicians
We have the most qualified team of repair guys in Winnipeg. Our professional repairmen have extensive experience in fixing AEG appliances. For that reason, you can be certain that we can tackle down any problem of your AEG appliance. Firstly, our technicians will examine your appliances and offer you a fair quote for the repair service. If you accept the reasonable price for our AEG repairs, you will pay no service fee. Furthermore, our trained repairmen will fix AEG appliances for you extremely quickly, with major precision.
99
Happy Customers Every Day
Appliance Repair
AEG Appliance Repair in Winnipeg
This brand. represents traditional, durable German appliances that used to be one of the leaders in the world market. After a few purchases by different companies, Electrolux finally obtained all the rights over AEG and started using and producing some of the appliances of this brand. In addition, several partners belonging to the Electrolux Global Brand Licensing program also licensed the name AEG. Due to these changes and the original structure of AEG products, AEG appliances demand high-quality repair services. Only experienced technicians with genuine parts can properly fix AEG appliances. Therefore, you shouldn't hire just any amateur electrician to repair AEG appliances at your home; you need certified technicians that you can easily find at Same Day Repair.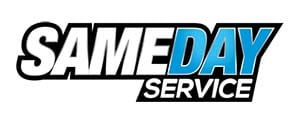 AEG Fridge Repair
Is your freezer leaking or performing poorly? We can fix AEG refrigerator for you right now! Same Day Repair technicians will bring all the original parts required for AEG cooler service and start fixing AEG refrigerator for you right away. Our warranty ensures the quality of our AEG refrigerator repairs so your freezer will not face any similar issues for at least a year.
AEG Washer Repair
A noisy washing machine could signal serious failures within your appliance. Our trained technicians can repair AEG washer at your home for a good price; utilizing quality equipment and advanced repair skills. All you need to do is order Same Day Repair AEG washer repair service in Winnipeg and we will take care of your washing machine entirely.
AEG Dishwasher Repair
Repairmen at Same Day Repair are experienced in all types of AEG dishwasher repairs. We can fix the AEG dishwashing machine in only a couple of hours, regardless of the issue. Our technicians will tackle down even the most serious problems of AEG dishwashers. Therefore, order our AEG dishwashing machine service as soon as you notice any problem with the performance of your dishwasher.
AEG Dryer Repair
Drying machine is a delicate home appliance that requires a quick fix and trained repairmen. Postponing AEG drying machine service in Winnipeg can cause serious issues to your whole household. That being said, you should keep our number close to you at all times. When your dryer starts overheating or breaking down, call us immediately! We will repair the AEG dryer the same day you give us a call.
AEG Stove Repair
If your cooktop is refusing to turn on, you will no longer be able to use the stovetop until you order our AEG stove repair service. Considering that we work 24/7, we will fix AEG range for you within only a couple of hours. You can always count on our AEG appliance repair service in Winnipeg so give us a call whenever you need our outstanding AEG stove repair services!
AEG Oven Repair
Do not panic if your oven starts burning all the food suddenly. Although it is a serious problem, our technicians can tackle down any issue of your AEG cooktop efficiently! All you need to do is call us and request AEG range service in Winnipeg. Before you know, our repairmen will be at your kitchen, fixing AEG oven for you!