Admiral Appliance Repair Service
Admiral Appliance Repair Service in Winnipeg. Same Day Repair provides extraordinary on-site repair services for home appliances of all brands and all makes. We offer fair prices for high-quality appliance repair services anywhere in Winnipeg. Our team is available 24/7 so you can call us anytime. The senior repairmen will fix your appliances the same day as they drive a van full of genuine parts constantly.
After examining the faulty appliances, our certified technicians will offer you a fair repair quote and you will pay no service fee if you repair with us. We accept Visa, MasterCard or Cash payment methods.
We are factory certified and you get up to 1-year warranty on all our appliance repairs in Winnipeg. Give us a quick call at (204) 400-4045 right now and order our repair services in Winnipeg.
Same Day Service
Admiral Appliance Repair Service in Winnipeg. Our technicians will fix your appliances in Winnipeg and the surrounding region the same day you call us. We organized our vans with genuine parts all around Winnipeg so we can visit your home quickly, without any delays. Once your stove, oven, fridge, dryer, washer, or dishwasher face a breakdown, we will be there to repair your appliances. Same Day Repair Admiral repair services include the estimation and quick fix of your appliances. If you need urgent help, now you know who to call to fix your Admiral appliances in Winnipeg.
Technicians with Extensive Experience
Repairmen in our team are experts at fixing Admiral appliances in Winnipeg. During the recruitment process for Same Day Repair technicians, we required advanced skills in fixing specific brands, including Admiral. You can get your appliance fixed extremely quickly by the most reliable technicians in Winnipeg. Our trained repairmen can tackle down any problem that your Admiral fridge, stove, oven, washer, dishwasher or dryer may experience. For a good price, all your appliances can work perfectly thanks to our outstanding Winnipeg appliance repair services.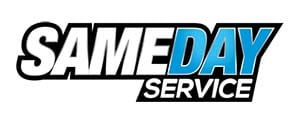 99
Happy Customers Every Day
Admiral Appliances
Admiral Appliance Repair Service in Winnipeg. It is a brand with an amazing reputation and a large number of users, especially in Canada; hence the Admiral appliances are sold at The Home Depot exclusively. Currently, Whirlpool Corporation is the manufacturer of all Admiral appliances. Keeping up with the tradition of Admiral, Whirlpool keeps producing high-quality Admiral appliances. Consequently, you need great technicians to fix Admiral appliances for you and maintain the quality of the products.
Admiral Fridge Repair
Our Admiral fridge repairs include the utilization of advanced equipment and original parts for your Admiral refrigerator. If you notice that the freezer is starting to fail, you need to order our Admiral cooler service immediately. Our team will fix your freezer the same day and you will get a warranty on our fridge servicing.
Admiral Washer Repair
The insured technicians at Same Day Repair will fix your washing machine faster than any other provider of washer repair services in Winnipeg. Your washer could experience a list of serious issues and only a great team of repairmen can help you efficiently. Therefore, order our Admiral washer repair service and let us fix your washing machine today.
Admiral Dryer Repair
Pay close attention to the performance of your drying machine. The smallest issue of the dryer can cause electrical chaos in your home. When you notice something strange, call us and order our effective Admiral dryer repair service in Winnipeg. We will fix your drying machine extremely quickly and make your dryer absolutely safe to use.
Admiral Dishwasher Repair
Constant leaks from your dishwashing machine are certainly not pleasant to see. Stop these issues by calling Same Day Repair and ordering Admiral dishwasher repair service. We have a great team of certified technicians that will gladly fix your dishwashing machine for a good price. By bringing professional tools and original parts for your Admiral dishwasher, we will repair your dishwashing machine the same day.
Admiral Stove Repair
A faulty Admiral cooktop will automatically affect you and your whole family by making your meals late or burning the food. None of that will happen if you order Admiral range repair service at Same Day Repair. We can fix any Admiral range. Therefore, if the stovetop started to fail, do not wait until it stops working completely. Call us as soon as possible and we will fix your Admiral stove before it's too late!
Admiral Oven Repair
An average Admiral oven could experience a list of issues that we can help you with. Whether your cooktop is failing to heat up or your range is overheating, Same Day Repair is here for you! Our Admiral oven repair service is all-inclusive. We will diagnose the problems of your range, offer you a fair quote for the oven repairs and provide a free service call if you repair with us. Additionally, you will get a warranty on our range repair service. Thus, you can be sure that the same problem will not occur any time soon.